Introduction
The business incubation and Agricultural Entrepreneurship Centre (BIAEC) facility have been established in the MNS-University of Agriculture, Multan, to support innovative business ideas and start-up companies in their initial development stage by providing an array of targeted resources and services. BIAEC is registered under the Higher Education Commission of Pakistan BIC establishment fund which supports new business ideas in training, seed money, prototype development and other business-related activities. Graduates of the business incubator program create jobs, revitalize neighborhoods, commercialize new technologies, and strengthen local and national economies. The academically affiliated business incubators help in transferring technology from universities and create a linkage of subject matter experts with the business community, a system for bringing technological advances and products to the market.
A business incubation program's main goal is to produce successful firms that will leave the program financially viable and freestanding. Critical to the definition of an incubator is the provision of management guidance, technical assistance, and consulting tailored to the needs of new enterprises. 
Vision
To be a leading business incubation center in southern Punjab to promote innovative start-ups in agri-entrepreneurship  
Mission
Promote entrepreneurship/self-employment among youth to develop agriculture and rural community and to generate innovative, growth-oriented, and internationally competitive SMEs
Objectives:
Promote entrepreneurship/self-employment among youth in agriculture related businesses and rural community 

Develop entrepreneurial ecology to cultivate business ideas and develop their concepts into market-ready products 

Promote Academia-Industry linkages to scale up the innovative business ideas 
Incubate Selection Process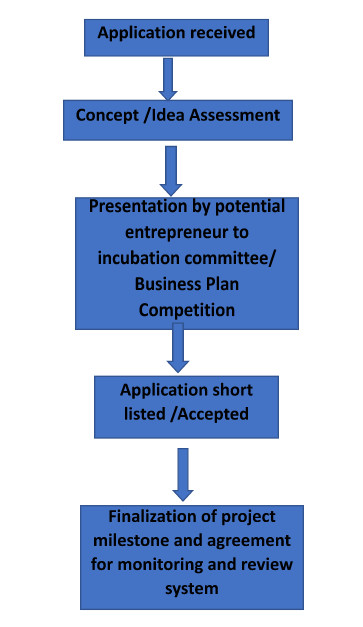 Business Incubate selection procedure 
There are two rounds in a year to select innovative business ideas for BIAEC. Student can appear in the business plan competition organized under the BIAEC or they can walk in the office to submit their application for consideration. 
BIAEC Tenant's Selection Criteria
The inventions/products/services generally fall in line with the vision of the MNSUAM and address the overall objectives of the strategic plan of the University 

The student who is applying for incubation must be enrolled in any degree program in the University and he/she must have a mentor for his/her business project preferably from within the University faculty. However, student from outside the MNSUAM may also participate if they appeared in Business Plan Competition at MNSUAM or they have supervisor from MNSUAM 

If the faculty member incubates their business projects and they want to work with private partners from the outside company, they have to lead by following the SOPs and ensure to involve university student(s) in business development 

Incubate must possess valid CNIC
General Criteria 
 The following criteria will be taken into consideration for the selection of incubate companies:
The candidate has good repute and reasonable experience in the relevant sector

The candidate is not a defaulter of any financial institution or any government duties or taxes

The candidate has not been convicted in any civil or criminal case
Graduation or Exit Policy:
Business plan and growth will be reviewed semiannually by the Incubation Committee. Incubate has achieved milestones agreed in the business plan. Specifically, the company has transferred technology successfully and has a financially viable and freestanding solid plan that will allow it to operate successfully outside the BIAEC. Incubate would be graduated successfully as an SME from a period of one year to two years. However, the incubation period may be extended to an additional 2-6 months as per need.
Follow up Program
The BIAEC may sign an agreement of follow-up mentorship/consultancy with the graduating incubate by creating linkage with the inventors/faculty of the MNSUAM to further improve the technology/product.
Services offered to Incubates at BIAEC
Physical infrastructure
Incubates will be provided with well-furnished offices. All offices will be ready-to-use and come with hassle-free services, including:
Reception services

ICT based office space for the incubates and accelerating companies 

Shared meeting rooms

Dedicated internet access

Executive cafeteria 

Well-equipped seminar Hall 

Labs for proto type development 

Store rooms for product and equipment 

Access to exhibitions 
Mentorship  
Mentorship in preparation of feasibilities, securing financing, formulation of business and market plans of the project.

Participate in finding and linking with suitable markets 

Assist to ensure the commercial and economic viability of the project.

Facilitate in the removal of legal and/or administrative hurdles in the implementation of the project

Offer Mentorship in registration of business/company.

Facilitate in filing and grant of the patent for the product/technology and secure intellectual property rights of the scientist/inventor

Facilitating to access funding for scale up the business ideas