Incubate Selection Process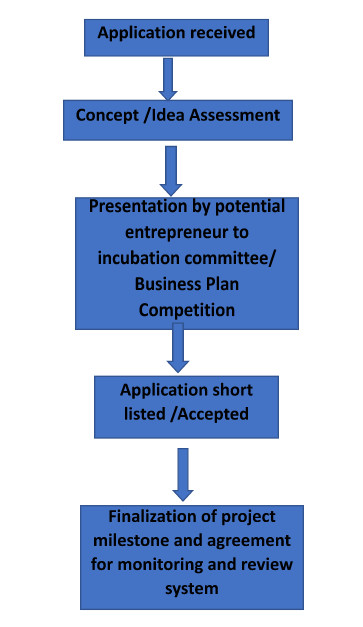 Business Incubate selection procedure 
There are two rounds in a year to select innovative business ideas for BIAEC. Students can appear in the business plan competition organized under the BIAEC or they can walk into the office to submit their application for consideration. 
BIAEC Tenant's Selection Criteria
The inventions/products/services generally fall in line with the vision of the MNSUAM and address the overall objectives of the strategic plan of the University 

The student who is applying for incubation must be enrolled in any degree program in the University and he/she must have a mentor for his/her business project preferably from within the University faculty. However, students from outside the MNSUAM may also participate if they appeared in Business Plan Competition at MNSUAM or they have a supervisor from MNSUAM 

If the faculty member incubates their business projects and they want to work with private partners from the outside company, they have to lead by following the SOPs and ensure to involve of a university student(s) in business development 

Incubate must possess valid CNIC
General Criteria 
 The following criteria will be taken into consideration for the selection of incubating companies:
The candidate has a good reputation and reasonable experience in the relevant sector

The candidate is not a defaulter of any financial institution or any government duties or taxes

The candidate has not been convicted in any civil or criminal case
 Graduation or Exit Policy:
Business plan and growth will be reviewed semiannually by the Incubation Committee. Incubate has achieved milestones agreed in the business plan. Specifically, the company has transferred technology successfully and has a financially viable and freestanding solid plan that will allow it to operate successfully outside the BIAEC. Incubate would be graduated successfully as an SME from a period of one year to two years. However, the incubation period may be extended to an additional 2-6 months as per need.